More Strange Self-Storage Finds
December 9, 2021
Low Cost, Secure Domestic, Business & Student Storage Units, Flexible Terms, Range of Sizes, Gosforth, Wallsend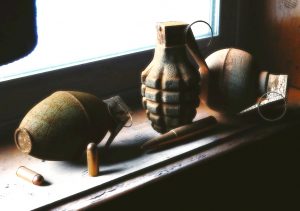 Our last blog talked about some of the strangest things recovered from abandoned self storage units, but it never ends. Here are some more amazing and unusual items to demonstrate how eccentric people can be.
Electric Chair
Let's start with the rather gruesome find of an electric chair, which left staff at a US storage facility speculating on its presence. One also wonders who the last unfortunate person to sit on it might have been when in use.
Unexploded Hand Grenade
This caused a bit of a commotion at a unit in Michigan when this live device was found, causing a bomb disposal unit to be hastily called.
Burt Reynolds 'Things'
Jaws dropped as the contents of a container once owned by the movie celebrity were revealed, including the canoe used in the iconic 1972 film Deliverance. Amongst the other numerous items were a horse carriage made by Dolly Parton, a toy car from Smokey & the Bandit, and a doctor's note about an op Burt had in 1955.
Body Bits
There have been many shocking things discovered in storage units……like body parts. One of the less horrific is a jar of gallstones, and one guy kept a severed leg he lost during a plane crash, so he could eventually be buried with it!
Loved Ones
Urns are often kept in storage units, but one family kept the body of their Grandma in a casket for 17 years in one.
Michael Jackson Songs
One lucky new storage unit owner found himself with a unit previously owned by Michael Jackson's father. It contained around 250 unheard and unreleased recordings of the singer some featuring Tina Turner. There was no existing legal ownership, as they were recorded when Jackson was between recordings!
We don't recommend storing some of the more whacky items listed here at our Cubic Storage facilities. We are however happy to advise on your storage needs in Gosforth, Ponteland, Newcastle & Wallsend.
Self Storage, Holiday Storage, Container Hire, Short or Long Term Rental, Ponteland, Newcastle-upon-Tyne
Business
Container Hire
Flexible Terms
Gosforth
Holiday Storage
Long Term Rental
Low Cost
Newcastle-upon-Tyne.
Ponteland
Range Sizes
Secure Domestic
Self-Storage
Short
Student Storage Units
Wallsend