What is the New Normal for Students?
April 21, 2021
Low Cost, Secure Student Domestic & Business Storage Units, Flexible Terms, Range of Sizes, Gosforth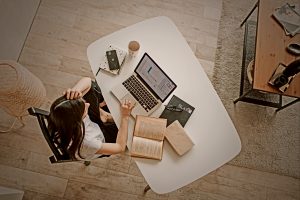 Apparently many universities and further education establishments are trying to tempt students back with promises of a sort of pre-Covid student life. Statements offer a 'totally open campus' or an experience 'much more like usual'. This isn't really working though, as many students and academics believe a more realistic picture should be portrayed. They think that there should be no glossing over of the fact that continued disruption to classes and social life is likely.
The attitude of the universities is kind of understandable though, as competition to attract students will be particularly fierce this year. Many smaller institutions fear that the more acclaimed universities will once again expand and snaffle the majority of students. After all, the £9,250 that each student pays is not to be sneezed at. Universities such as University College London, Sheffield University, Edinburgh University and Ulster University tell students to expect 'blended' learning. This means online lectures where possible and reduced in-person workshops or seminars.
But some university websites make hardly any mention of the pandemic, or simply say that the next academic year could look very similar to pre-Covid years. Of course this is what a lot of students want to hear, and who can blame them! Professor Karen Stanton, vice-chancellor of Solent University, Southampton says: "We have exciting plans in place to bring all our students back to campus in the 'new normal' we'll be facing."
However, professor of higher education at the University of Oxford, Simon Marginson, says institutions who are struggling might be tempted to tell students what they think they want to hear. "They will pitch it as normal or near normal higher education in term 1 of 2021-22," he says. "After the experience of the current academic year, we know this is unfair to students." Professor Marginson says universities will probably end up having to offer online as well as face to face learning, and students may be once again faced with studying in their bedrooms.
Don't forget if you're studying and in need of affordable storage space in Gosforth, Cubic Storage are bound to have the exact unit or container you require!
Self Storage, Holiday Storage, Container Hire, Short or Long Term Rental, Gosforth
Business Storage Units
Container Hire
Flexible Terms
Gosforth
Holiday Storage
Long Term Rental
Low Cost
Range Sizes
Secure Student Domestic
Self-Storage
Short