Crazy Collections
April 15, 2021
Low Cost, Secure Domestic, Business & Student Storage Units, Flexible Terms, Range of Sizes, Whickham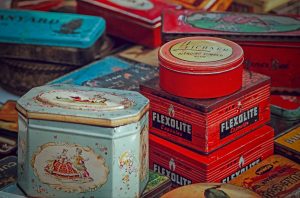 There are a number of extremely sensible and practical reasons for using self storage, but the more frivolous ones can be fun. People love to collect 'things'. You only have to discover a friend collects ceramic pigs, and everywhere you go you seem to notice an unusual ceramic pig! It seems once people start, they can't sop and their collection soon begins to take over the living space. This can become a source of contention among partners and the family. This is why many collectors rent a self storage unit, where their treasured collection can grow unabated. There is also less chance of them gathering dust getting damaged or causing a red face for the collector.
Belly Fluff Anyone?
Stamp collecting has always been a popular pursuit for many, but there are also plenty of bizarre collections around. One of the most strange collections is Australian, Graham Barker's collection of his own navel fluff! He began his er…different collection in 1984, which is now stored in three large glass jars. It's also led to appearances on many of America's biggest talk shows.
Bagus Vomitous
Another surprising collection comes in the form of aeroplane sick bags [hopefully empty], which are highly sought after! Who knew this was a thing? Niek Vermeulen from Holland, is down in the Guinness Book of World Records as having the largest collection. This consists of 5,468 [at the last count] of different sick bags from more than a thousand airlines.
Other impressive [sort of] collections include 1800 types of historic toothpaste and powders, 5,239 unique rubber ducks and 6,652 different table napkins. Some collections are generally considered more acceptable or desirable than others, such as British Royal Family memorabilia, musical records, cars and chocolate wrappers.
At Cubic Storage you will find high quality units and containers at affordable hire rates to keep your collections in Whickham, whatever they may be, in mint condition!
Self Storage, Holiday Storage, Container Hire, Short or Long Term Rental, Whickham & Newcastle-upon-Tyne
Business
Container Hire
Flexible Terms
Holiday Storage
Long Term Rental
Low Cost
Newcastle-upon-Tyne.
Range Sizes
Secure Domestic
Self-Storage
Short
Student Storage Units
Whickham